Free Worldwide Postage

When you Spend over £250
Sugar Oh Honey Honey was created in loving memory of my daughter Honey Rose. I wanted to create something beautiful and creative in her name. I never wanted her to be forgotten and to give myself something to throw all my love and energy into. Honey gave me the confidence to start this journey as within her short life she made me realise that we only have life and need to make the most of it. I love that I can come to work every day knowing I am making my dream of helping others through jewellery come true.
This little business has become my life and love, it gives me a reason to wake up every morning and the best part of this journey has been the amazing people it has brought into my life. I am forever thankful to each customer who keeps this dream stay alive, and for every customer who becomes a friend.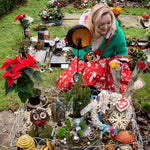 "Thank you for my beautiful ring with my Ruby, it is really lovely. Vicky Rose has given a fantastic service and has amazing attention to detail. Thank you so much xx"

- Sarah Stam

"Sugar made this entire process as easy and painless as possible. They were kind, compassionate, and understanding from start to finish. My necklace is beautiful and they even included a personalized keyring with my order! Thank you so much!"

- Kaitlin

"There are no words for how beautiful this is. Amazing service, would recommend to anyone ❤️❤️❤️ thank you ❤️❤️❤️"

- Sidonie McInnes

"A wonderful way to keep a piece of your beloved ones with you. I love wearing it and feel so at peace. Wonderful communication and ashes treated with such respect. Highly recommend this seller."

- Diana

"Beautiful ring and a beautiful service. I could not be happier with either the end result or the loving and heartfelt service I feel my Bailey Nugget received with Vicky Rose 💕 I would highly recommend Sugarohhoneyhoney to anyone."

- Sophie Close

"Absolutely love this bracelet and the thoughtful gift that came with it. The whole process was so easy and I now have my 2 little beauties with me always 💕. The natural colour is perfect too. Thank you so much."

- Tracey Greatorex
Meet the Team
We are not a team because we work together. We are a team because we respect, trust and care for each other. 
Meet the Team!
Ashes Jewellery has been a relatively new style of Jewellery to come out but the concept has been around for thousands of years. You can...